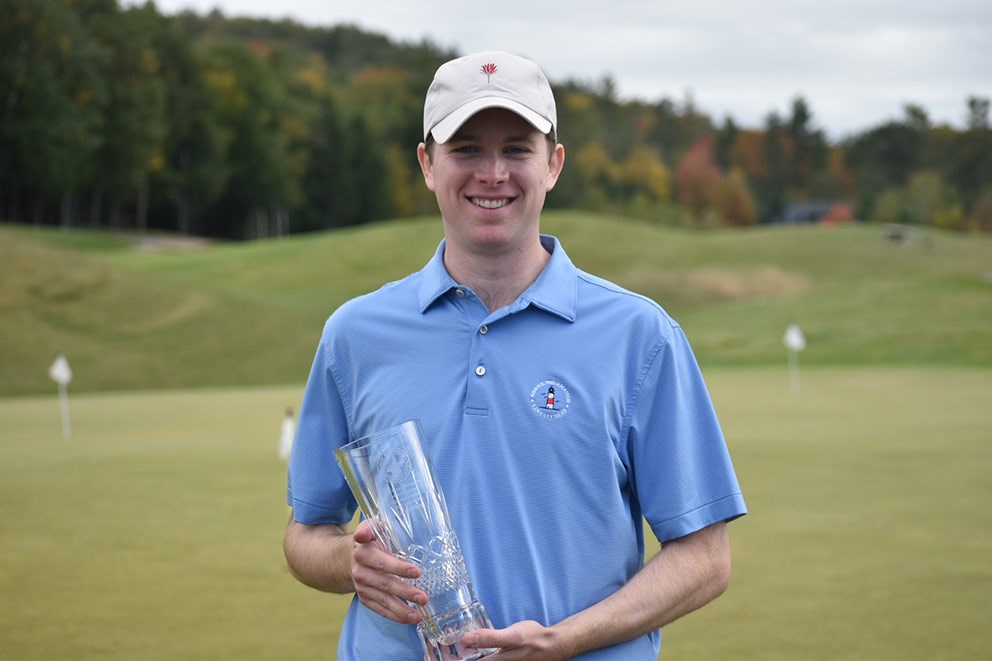 Thrilling Final Round of NH Mid-Amateur Gives Way to Another Pleat Victory
Thornton, NH – The final round of the New Hampshire Mid-Amateur held at Owl's Nest Resort was a thrilling one where it could have been anyone's tournament, but James Pleat (Nashua CC) was able to come from behind and close it out with an even-par final round to finish the tournament at four-under par. Jim Cilley (Laconia CC), Ryan Kohler (Hooper GC) and Jeremy Duhamel (Manchester CC) finished tied for second, two shots back of Pleat in the end.
The final round of the tournament started out with the field chasing down Jim Cilley who held a two-stroke lead after 36 holes of play. Unfortunately for Cilley, the front nine got the best of him as he made four bogeys and opened the door for other golfers to take over the lead. Ryan Kohler was the first to step up and take over the lead as he made nine-straight pars on the front nine, which proved to be enough to find himself at the top.
The front nine was not exactly Pleat's friend either, he made bogeys on the second and third holes at Owl's Nest to get himself to two-over par thru three holes, which set him back from the beginning.
"I was two over after 3 and really got off to a rough start but I kind of hung in there and made a birdie on 4 and I made the turn at one-over", stated Pleat.
With Kohler in the lead, Cilley, Pleat and Duhamel made the turn in hopes of capitalizing on some birdie opportunities on the back nine. Pleat and Cilley were first to strike, making birdie on the par-3, 10th hole after sticking their tee shots in close. With that birdie, Pleat moved into a tie for the lead with Kohler. The 11th hole was another turning point in the round as Kohler struggled on the green, making bogey and handed over the lead to Pleat at four-under par.
Pleat commented on those two holes to start off the back nine saying, "10 and 11 were where it flipped a little bit and before I was kind of playing from behind and just trying to stay in it."
From there, it was a matter of survival for all four golfers as birdie chances were not falling into the hole as they would have liked. In fact, play around the greens seemed to be the toughest part of the day for most golfers. Pars were good enough to stay in contention.
Kohler ended up falling a couple more shots back as he added more bogeys to his card on the 13th and 14th holes at Owl's Nest. Cilley was still hanging on with pars but three-putted his way to a bogey on the 15th hole. Pleat even carded a bogey on the 16th hole after his approach shot rolled off the back of the green and he was not able to get up and down successfully. A birdie on 17th hole helped Pleat extend his lead back to two, while Duhamel settled for par. It came down to the 18th hole where Cilley needed a birdie to tie Pleat. There was a chance when Pleat put his tee shot slightly off his intended line into a tough spot. He said, "I had a tricky shot in there on 18 but I was able to hit the green and make par so that felt really good."
Cilley ended up three-putting again for bogey, Pleat rolled in the par putt, and Kohler worked his way back to the second-place position with Cilley and Duhamel after he finally got a birdie putt to drop.
Everyone looking at the leaderboard knew it was going to be an exciting final round to keep tabs on. Pleat commented saying, "I knew I was in for a tough battle with those two, I think we were in the final round in this tournament last year. Usually if we're all playing okay, we are around the lead."
He was exactly right, these three were playing great golf throughout the tournament to work their way up the leaderboard. And this year, they had Jeremy Duhamel also battling it out with them for the title. Pleat, Cilley and Kohler have all claimed New Hampshire Mid-Amateur titles, with Kohler being the most recent champion, winning the last two years.
Now back in the winner's spot and claiming his third New Hampshire Mid-Amateur victory, Pleat said, "It feels great. I won a couple a few years ago and Ryan [Kohler] has been dominating the last few years which comes as a surprise to no one. It was nice to come out on top and win it again."
The New Hampshire Golf Association would like to extend a thank you to Owl's Nest Resort for hosting the final championship of the season. The course was in great condition and was a tough test, especially on the final day.
NH Mid-Amateur | Results