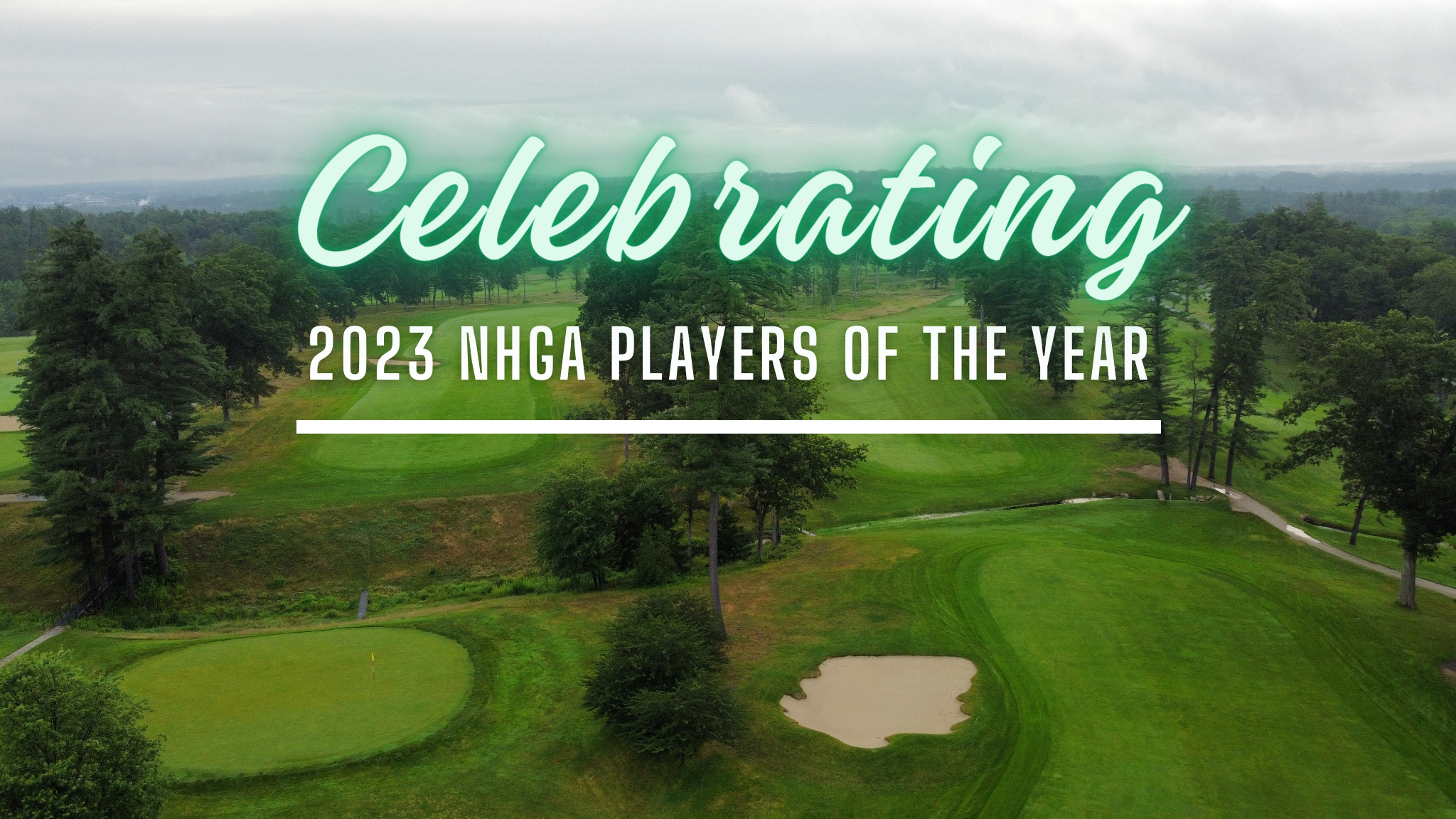 NHGA Celebrates Its 2023 Players of the Year
Concord, NH – On November 2nd, at a ceremony held at Manchester Country Club, the New Hampshire Golf Association honored its 2023 Players of the Year. Rob Henley (Thomas J. Leonard Jr. Player of the Year), Kat Bordeau (NHGA Women's Player of the Year), Craig Steckowych (NHGA Senior Player of the Year), Carys Fennessy (NHGA Girl's Player of the Year) and Andrew Surprenant (Kirk Hanefeld Junior Player of the Year) were honored for their accomplishments throughout the season.

Thomas J. Leonard Jr. Player of the Year | Rob Henley
Moving to New Hampshire only a couple of years ago, the NHGA first saw Rob at last year's State Amateur at Abenaqui where he made a strong first impression, not because he was medalist that year, but because of his straw hat and what an incredibly nice guy he was. This year Rob earned the 21st seed in the State Amateur and battled his way all the way to the final match, beating out strong New Hampshire players on his way. Rob played some very consistent golf and took this year's champion, Jack Pepin, to extra holes after a 36-hole match, earning the Runner-up title.

In the Stroke Play Championship, Rob had another solid run, shooting even par over the three-day championship taking the Runner-up spot again. Outside of New Hampshire, Rob brought his talents to a US Mid-Amateur Qualifier down in Massachusetts where his score was good enough to take him to a playoff, and he earned an alternate spot for the Championship. After a season of runner-up titles, Rob knew exactly what he wanted when he stepped up to the first tee at this year's New Hampshire Mid-Amateur Championship. He was dialed in, and his scores proved it. Rob captured his first NHGA Championship with an extremely impressive nine-under par.

NHGA Women's Player of the Year | Kat Bordeau
After capturing Player of the Year honors last season, Kat Bordeau used 2023 to continue to elevate her status as one of the premier female golfers in the state. Jumpstarting her 2023 season with a three-stroke win at the Women's Weekly at Hoodkroft, Kat proceeded to add two more stroke play victories at Newport Golf Club and Den Brae Golf Course, as well as multiple second place finishes.

At the New Hampshire Women's Amateur Championship at Montcalm Golf Club, Kat battled against a tough golf course and the strongest field of the year on her way to a 4th place finish. A few short weeks later, she went up to Ridgewood Country Club to compete in the New Hampshire Women's Mid-Amateur Championship. With an impressive first round 73, Kat led by five entering the final day where she proceeded to take home the 36-hole championship by a whopping nine stroke margin. This was her second championship of the year as she also took home the Senior division title at Lochmere Golf & Country Club in the Women's Senior Championship.

Some like to say its quality over quantity, but for Kat, it is a combination of both. Playing in 13 events this season, Kat totaled seven victories, three runner-up finishes, and never found herself lower than 5th place at any tournament. She is a consistent supporter of NHGA events and is a great competitor.

NHGA Senior Player of the Year | Craig Steckowych
Our Senior Player of the Year is not an unknown name in our community. Known affectionately as Steck to those around him, Craig has been a force in New Hampshire Golf for over 30 years with numerous Championship titles under his belt. While he is a technical senior, you will often find Steck opting to play in the regular divisions of NHGA events and Tri States to challenge himself with longer yardages and more competition. The sheer fact that he can play in a different division and still capture the title of Senior Player of the Year is another accomplishment all on its own.

The name Steckowych must be synonymous with consistency because you will always find him at the tops of our leaderboards regardless of the event. This season, Steck displayed dominance in winning the Senior Match Play Championship, without any of his matches ever making it to 18 holes. He once again made it to match play in the State Amateur where the competition gets tougher each year. Steck finished in the top three at the Senior Team, top five at the Stroke Play Championship, and in the top 10 at the New Hampshire Mid-Amateur, often earning the title of low senior in each of these events.

If you ever get the chance to, it is truly incredible and fun to watch Steck out on the course in his element. He is dialed into the game but will still smile and crack jokes with us as we drive up.

NHGA Girls Player of the Year | Carys Fennessy
Our Girls Junior Player of the Year solidified her place as not only a top junior golfer, but a top female golfer in New Hampshire. Carys came into the 2023 season having not played much golf in 2022. After an accident involving an errant golf ball at the US Open at The Country Club, Carys' golf game took a backseat to a road to recovery. To Carys, the 2023 season might have looked like a big question mark based on the challenges she faced after the accident.

At Carys' first NHGA event of the season, The Players Invitational at Baker Hill, she showed us all that her game was back, and she was on a mission. After a playoff, Carys ended up finishing in second place behind the reigning Women's Amateur Champion Juliana Megan. Carys stacked her schedule with many regional and national events through the beginning of the season. By the time the New Hampshire Women's Amateur rolled around, Carys' game would be in championship form. After round one it was very clear that Carys was ready for the challenge of competing against the State's best female golfers, as well as the challenge that Montcalm Golf Club would pose. Carding an impressive four-under 68 in Round 1, Carys gave herself an eight-shot lead. Posting 73 and 74 in rounds two and three, Carys cruised her way to an extraordinary win, 15 shots better than the next finisher.

Regionally, Carys represented New Hampshire at the New England Junior Amateur. She finished in second place just a few shots behind the eventual winner. At the New England Women's Amateur, Carys finished 4th, just six shots back from the winner. Most recently, Carys won the NHIAA Individual Girls High School State Championship for the 3rd year in a row. This earned her a spot at the New England High School Championships, where she shot five-under 67 to take the top spot among the region's best high school golfers.

In a year that held so many questions for Carys, her competitiveness and dedication to her craft guided her through to a phenomenal season.

Kirk Hanefeld Junior Player of the Year | Andrew Surprenant
Andrew Surprenant is also honored as the Kirk Hanefeld Junior Player of the Year. Andrew came into 2023 very much under the radar. It didn't take long for Andrew to start turning heads. At the Junior Stroke Play Championship at Stonebridge CC, Andrew quickly made his presence known. Shooting an opening round three-under 69. He followed that up with an easy 73 to win the 36-hole championship by seven shots over last year's Player of the Year.

With his sights set on a win at the Junior Championship, hosted by his home course of Beaver Meadow, Andrew ended up finishing 3 shots back from the winner. With a fire lit, Andrew went on a tear through the rest of the Junior Tour schedule. He worked his way through a stacked championship bracket at the Mike Ryan Memorial to get his second win of the season. He went on to win the Hoodkroft Junior Open, The Junior Tour at Breakfast Hill, and the Junior Invitational at Breakfast Hill. With multiple rounds under par, Andrew finished this stretch with an impressive scoring average of 70.

Outside of the Junior Tour, Andrew made a name for himself both across the state and regionally. Finishing tied for second in his State Amateur Qualifier, Andrew set his eyes on MCC. He was only one of 13 junior players to even make it to MCC to take their shot at the title among the state's best golfers.
Andrew also earned a spot to represent New Hampshire at the New England Junior Amateur held at Mt. Washington. Playing among the 42 best male junior golfers in New England, he finished with a 54-hole score of two-under, good enough for 8th place. The highlight being his 2nd round 66 in tough conditions.

Andrew certainly burst onto the New Hampshire junior golf scene in 2023. He was fun to watch all season, and we look forward to seeing where his play takes him in the future.